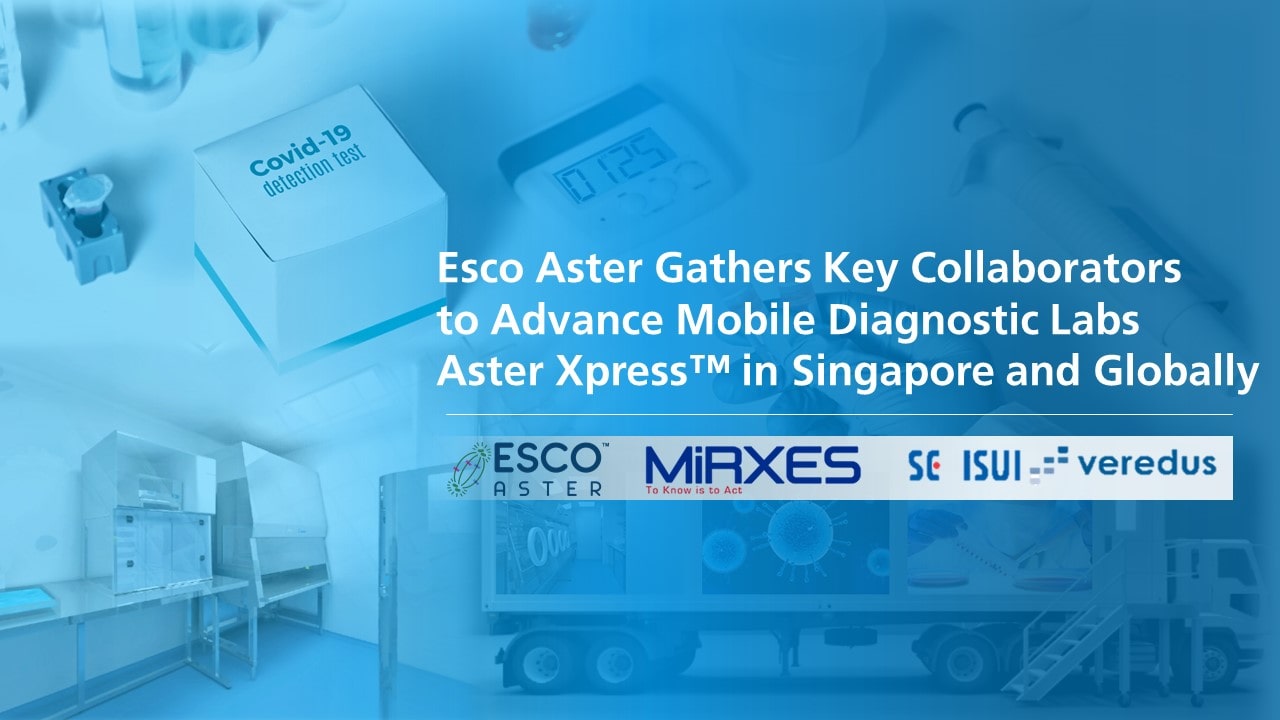 SINGAPORE - The recently launched Esco Aster Mobile Diagnostic Lab Aster Xpress™ is the first and till date a commercially available, turnkey solution, vertically integrated with internationally certified Esco biological safety cabinets (BSCs) that offers the best biosafety and protection for laboratory technician, product, and environment. (https://www.straitstimes.com/singapore/health/home-grown-firms-linked-to-pandemic-work-will-continue-to-attract-demand).
This turnkey solution enables a seamless integration of the entire process flow and provides absolute protection to lab technicians to prevent laboratory acquired infections as well as reduction of potential false positives.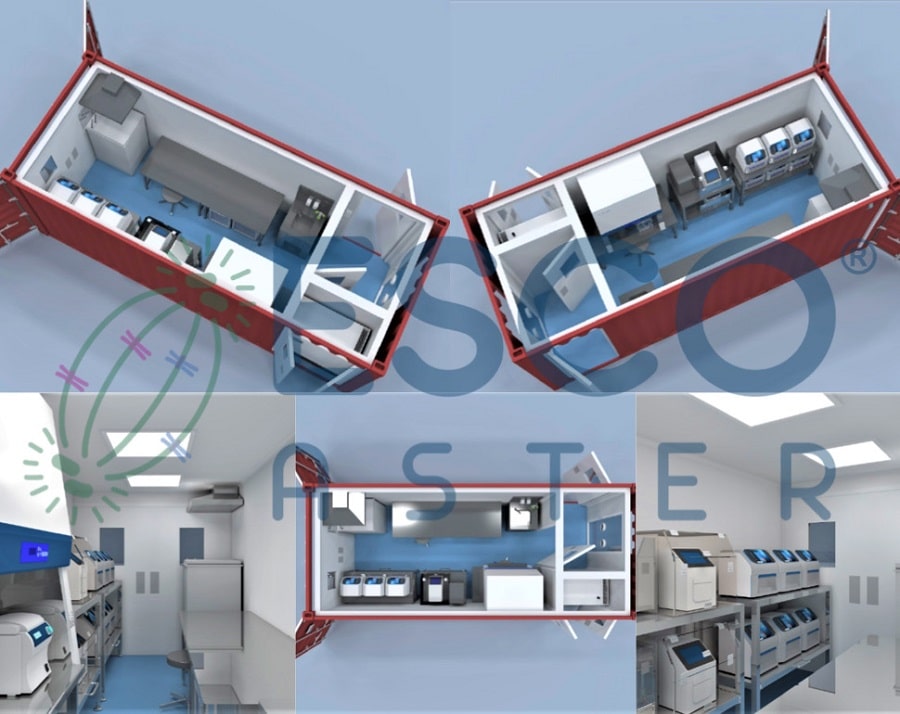 Figure 1. Aster Xpress™ with integrated Streamline Swab Booth in 20' container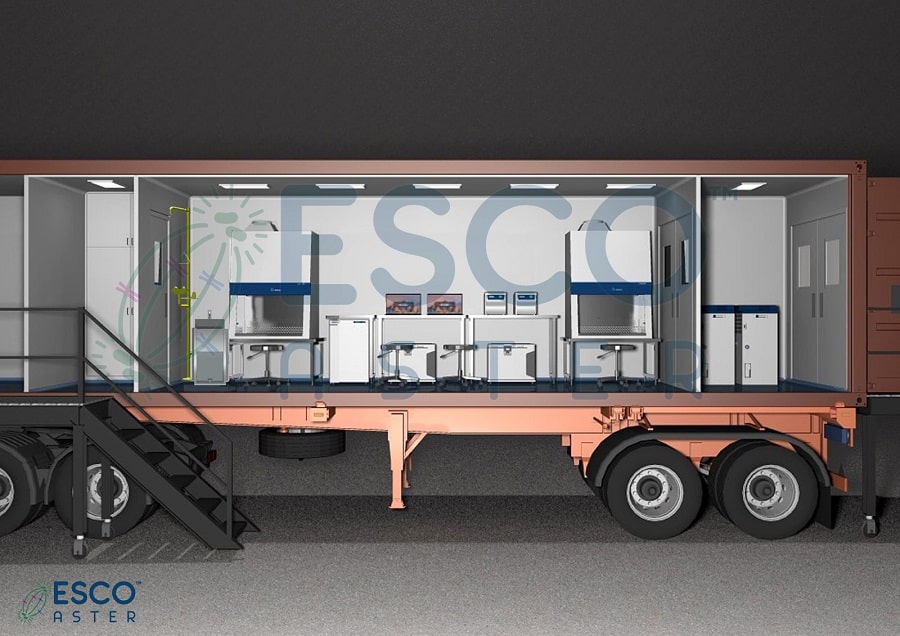 Figure 2. Aster Xpress™ 40' container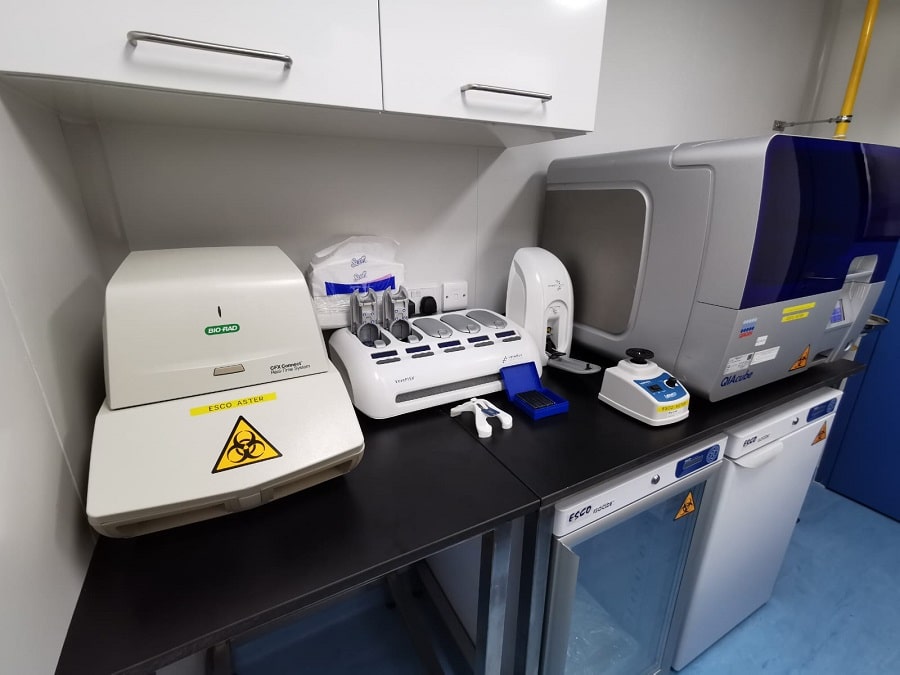 Figure 3. Vereplex™ Biosystem inside Aster Xpress™ 10' mobile lab.
Over the past month, Esco Aster has carefully selected Singapore's Fortitude Kit, licensed and manufactured by MiRXES as a default test for Esco Aster's latest Mobile Diagnostic Labs. Veredus Laboratories has been selected as the default partner for Point-of-Need (PON) and Point-of-Care (POC) microarray RT-PCR rapid testing.
The partnership with Singapore's top 2 diagnostic companies pushes for rapid testing to reduce the chances of COVID-19 community spread and help flatten the disease curve. This partnership between diagnostic test suppliers to be integrated with the design of the mobile labs provides a turnkey solution for healthcare institutions and groups, which can easily be implemented with the appropriate validated protocols.
Instead of relying on centralized labs, the Mobile Diagnostic Lab, will provide greater accessibility for those who do not have easy access to medical infrastructure. This offers a packaged solution to solve issues with highly technical molecular testing; providing certified and calibrated equipment array suited for the partnered kit. Eventually, these mobile labs suited for the tests can be deployed in the regions or quarantine zones as compared to key centers; effectively bringing testing to point of need rather than point of care.
Due to the highly infectious nature of COVID-19, special containment systems and biological safety cabinets (BSCs) found in a biosafety level (BSL) 2+ laboratory will be required to manipulate patient samples to ensure the safety of laboratory workers with appropriate pressure cascades and centralized Air Handling Units. The term "biosafety level" refers to the level of containment required to reduce the risk of exposure to dangerous biological agents in a laboratory. These levels range from BSL-1 (lowest-risk) to BSL-4 (highest-risk).
The Mobile Diagnostic Lab is a scalable and mobile biosafety level (BSL) 2/3 laboratory, which was purposed-built to be compliant to international guidelines released by the World Health Organization (WHO) and Centre for Disease Control (CDC) as well as Biosafety in Microbiological and Biomedical Laboratories guidelines. Aside from BSCs, gloveboxes, isolators, PCR cabinets, Real Time PCRs, Auto Extraction systems and optional Esco disinfection and bio-decontamination hydrogen peroxide (H2O2)-based systems can also be integrated. The decontamination systems aid to eliminate health risks in the entire facility due to exposure to dangerous microbes during an adverse event such as a spill as well as prevent cross-contamination.
WHO declared that adequate diagnostic testing for COVID-19 is critical to suppress community transmission. In the global context more secondary hospitals are mandated now to have their own in-house diagnostic capabilities as additional waves of Covid-19 are predicted to come. Most recently within Wuhan due to a small outbreak of 6 new cases sparking fear of rekindling of a lockdown, all 14 million residents are said to be tested within 10 days, demonstrating the need of building up self-sufficiency for diagnostic testing.
In Singapore, to date, the total number of confirmed cases has reached more than 28,000, prompting the government to declare an extension of the circuit breaker period. As of May 17, WHO reported that there are more than 4.5 million confirmed cases of COVID-19 and deaths totalling more than 300,000 globally.
Prime Minister Lee Hsien Loong addressed the nation on Tuesday, April 21, regarding the sharp rise in confirmed cases in Singapore. A huge number of the confirmed COVID-19 patients on April 21 were foreign workers residing in dormitories and they were detected through aggressive testing. Since then, at least 18,948 confirmed cases were identified. With the growing number of confirmed cases, there will inevitably be a growing demand for community testing. As pre-schools in Singapore will be re-opening, 30,000 pre-school staff will be undergoing precautionary COVID-19 swab tests from May 15 to May 26. Around 6,000 staff have been tested as of May 17.
"Digitalization and Industry 4.0 for Diagnostic Laboratory Information Systems are our next internal development. We will work out an open-source platform for full connectivity after we have selected a RT PCR collaborator and do end-to-digital trace to avoid mis-diagnostics during the entire lab workflow. Virtualization will also allow us to rapidly train new lab technicians on the skills required to rapidly enhance the ecosystem and train them on biosafety in diagnostic testing of infectious samples" said Esco Aster Founder, President, & CEO, Xiangliang, Lin.
"MiRXES is honored to be selected as a key partner and to support of Esco Aster's in its efforts to decentralize and expand COVID-19 testing capacity in the region and globally. We are confident that deploying the Fortitude Kit COVID-19 RT-PCR test with Esco Aster's Mobile Diagnostic Lab will extend the reach of COVID-19 testing and contribute to the national and global effort in fighting the COVID-19 pandemic, with the FORTITUDE COVID-19 RT-PCR test. The Fortitude test, developed by A*STAR and Tan Tock Seng Hospital have developed and validated the FORTITUDE test at the onset of COVID-19, in Singapore. It was the first test to receive Singapore HSA authorization since early February, the Fortitude test has already been deployed locally and globally for the detection and the diagnosis of COVID-19. MiRXES has ramped up the production capacity of the FORTITUDE test kit from an initial 100,000 tests per week to more than 500,000 tests per week leading progressively to numbers above 1,000,000 per week. I am confident that the partnership with Esco Aster's Mobile Dx Lab will further enable the FORTITUDE test and MiRXES to serve the nation as well as the international effort to contain COVID-19." said Dr Zhou Lihan, Co-founder and CEO of MiRXES, Dr. Zhou Lihan.
Veredus Laboratories has obtained the Provisional Authorization for In vitro Diagnostic (IVD) use of VereCoV™ Detection kit from Singapore Health Sciences Authority (HSA). In a collaborative effort between Veredus Laboratories and the Home Team Science and Technology Agency (HTX) Chemical, Biological, Radiology, Nuclear and Explosives (CBRNE) Centre of Expertise, VereCoV™ Detection Kit was developed for use together with the VerePLEX™ Biosystem, which has a small footprint and portable for easy integration into the Mobile Diagnostic Lab. Altogether, this allows clinical testing of patient specimens, typically performed in hospital laboratories, to be brought towards the frontline and triage centers in a more time- and cost-effective manner.
"Our main pursuit for this COVID-19 pandemic is to provide a quality molecular testing solution as an effective respond to the needs of hospitals and reference laboratories. This integration of our VereCoV™ Detection Kit in Esco Aster Mobile Diagnostic labs will play a significant role in mass clinical screening of communities in the regions as implored by WHO's Director General's key message." said CEO of Veredus Laboratories, Dr Rosemary Tan.
The ESCO-MiRXES-Veredus partnership was facilitated by Enterprise Singapore (ESG), the Singapore government agency championing enterprise development.
Ted Tan, Deputy Chief Executive Officer of Enterprise Singapore, said "Accessibility to testing is key to containing COVID-19. As the world navigates through this trying period, we are heartened to see Singapore biomedical companies stepping up and banding together to develop end-to-end mobile testing solutions to contribute to the global fight against COVID-19. The solution will benefit regions which have limited access to the existing healthcare infrastructures."
Testing is one of the front-line efforts of Esco Aster in flattening the COVID-19 curve. With the combined effort from collaborators, the goal of increasing diagnostic capacity globally and in turn, preventing the further spread of the disease, will be easily achieved.
Learn more about the Esco Aster Trace, Test, and Treat platform.
About Esco Aster
Esco Aster is a contract development and manufacturing organisation (CDMO) focusing on offering vaccine-, bio-, cell- and gene-therapy development manufacturing services using primarily its proprietary adherent Tide Motion platform supplemented by single use suspension and fermentation, downstream bioprocessing, and custom bioengineering equipment for client specific therapeutics.
Within the in vitro/in vivo Dx space we focus on developing mAb-based antigens, single domain antibodies for radioimaging, RT-PCR reagents, RCL diagnostics. We work with collaborators to provide turnkey mobile Dx labs Aster Xpress™.
Within the chem- biopolymer- cosmetic, personal care, cosmeceutical- segments, we excel in converting batch processes into continuous flow chemistry, closed aseptic processing within isolators and variety of skin safety/efficacy testing services.
For the COVID-19 pandemic, we are working on an end to end trace, test, and treat platform from swab booths, to mobile labs, turnkey modular screening, and treatment centres with isolation rooms as well as working on Dx, therapeutics and vaccines.
About MiRXES
Harnessing microRNA discoveries, solving real-world issues, eradicating diseases, and improving lives.
MiRXES is a homegrown biotech company based in Singapore. We harness our world-leading microRNA research and technology platform to discover and incubate game-changing biotech applications across the medical, pharmaceutical, agricultural, and veterinary industries.
Through our pioneering microRNA biomarker profiling efforts, we work with our partners to develop revolutionary microRNA applicative uses that can solve real-world issues and accelerate them to market.
MiRXES is committed to building a global microRNA-based ecosystem with a strong network of clinicians, researchers, and corporates to transform innovative science into affordable, accurate, and accessible solutions that can eradicate disease and improve lives.
About Veredus Laboratories Pte Ltd
Veredus was founded in 2003 and launched its first products in 2005. Veredus Laboratories is a wholly-owned subsidiary of SEKISUI CHEMICAL CO., LTD.
Veredus manufactures and markets the VerePLEX™ Biosystem to provide innovative multiplexed molecular solutions in the food safety, biosurveillance, infectious disease and custom testing markets. The VerePLEX™ Biosystem works in conjunction with VereChip™ - a Lab-on-Chip platform that combines Micro-Electro-Mechanical Systems (MEMS) with micro-fluidics to integrate multiplexed nucleic acid amplification with microarray detection for rapid, cost-effective, and accurate analysis of biological materials.