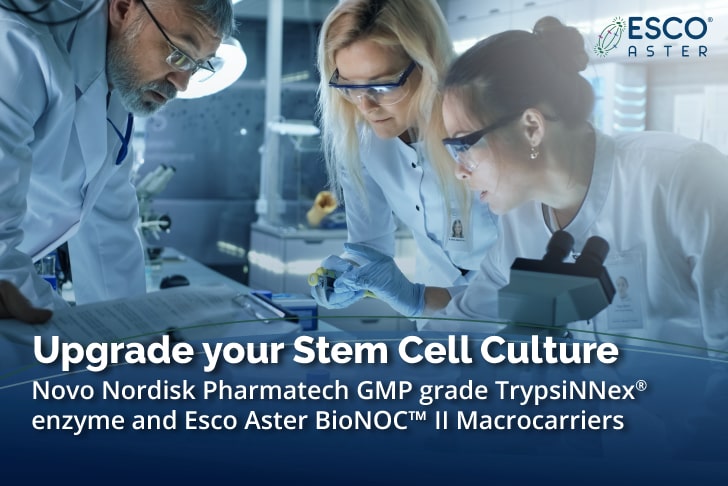 Esco Aster will be Presenting at BPI Digital Week
Esco Aster, a CDMO company headquartered in Singapore is partnering with BioProcess International Digital Week on December 7-10 to conduct a webinar on optimizing stem cell cultures.
Senior Scientist of Esco Aster's Stem Cell Department, Dr. Geraldine Chiew will be joined with Theis Guldbech to discuss optimized culture of stem cells using a combination of Novo Nordisk Parmatech's GMP grade TrypsiNNex™ and Esco Aster BioNOC™ II macrocarriers.
The webinar will feature a discussion on the latest advances in using TrypsiNNex in 2D and 3D culture with BioNOC™ II macroporous carriers to identify optimal stem cell detachment and verified for the minimal stem cells criteria as per ISCT guidelines, which includes adipogenic, chondrogenic, and osteogenic differentiation for cell line identity and immunophenotyping for purity.
Stem cell culture involves critical parameters for optimization especially grown in vitro. During this webinar, the panel will also provide its present findings for culturing cells in manufacturing scale using 3D BioNOC™ II carriers and Tide Motion bioreactors, share how this data impacts stem cell research, and answer live questions from international audience in the Bioprocessing community. The live webinar series are free to attend. You can register here: BioProcessing International Fall Digital Week.