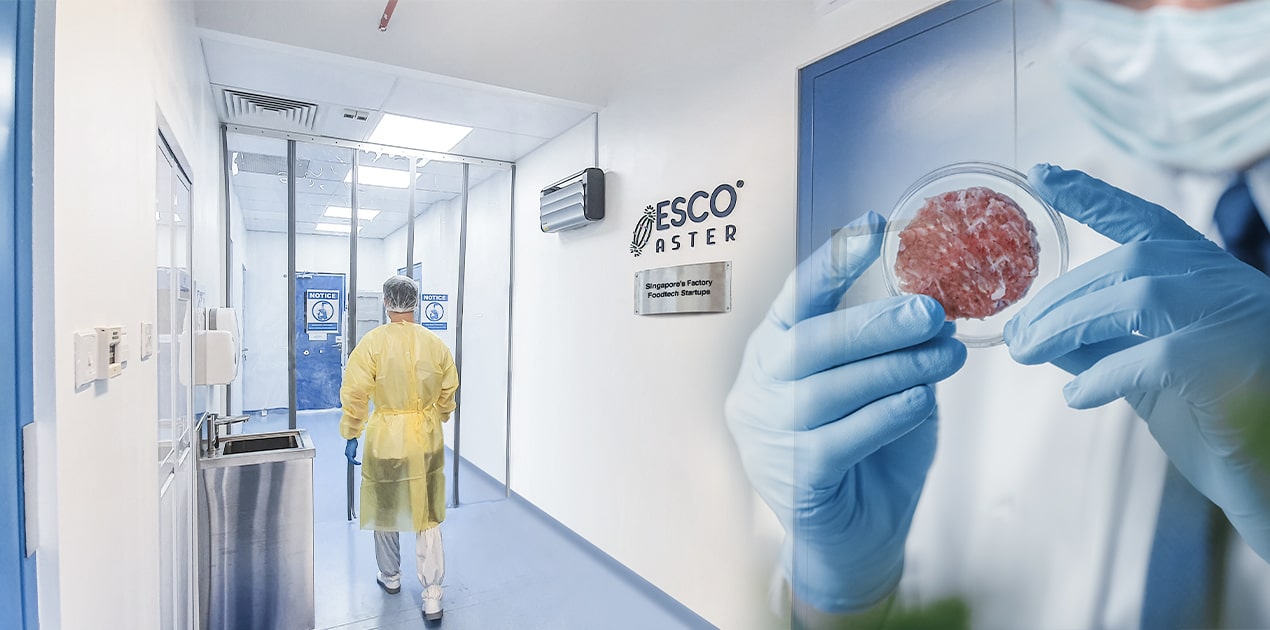 KEY POINTS
Singapore Food Agency (SFA) has granted Esco Aster a license for manufacturing cultured animal cells that have gone through SFA's safety assessment reviews on the 28th of July.
Esco Aster aims to align with a broader agriculture sector, forward-thinking policymakers, and passionate entrepreneurs. Together with dedicated Environmental, Social, and Corporate Governance (ESG) strategies, we will contribute to the reduction in global warming, air pollution, and water consumption. Esco Aster will continue to expand its footprint in various target markets to serve our core customers.
Startup activity in the cell-based space has exploded over the past two years, with currently more than 45 startups spread across the globe working on cultivated meat and where more than $350 million were raised for funding.
SINGAPORE, 15 September 2021 – Esco Aster, contract development and manufacturing organization (CDMO) providing bioprocessing platforms and services, has been granted a license by the Singapore Food Agency (SFA) for the manufacturing of animal cell cultivated meat that has gone through SFA's safety assessment review on 28th of July 2021.
Being an early pioneer, Esco Lifesciences group has supplied bioprocessing tools and associated platform services for different industries and at present, ventures for the cultivated meat, cellular agriculture, and alternative proteins space. This nascent industry has exploded over the past two years, where more than 45 startups spread across the globe to work on cultivated meat, and where funding was raised to 266% in 2020.
Esco Aster cGMP AsterMavors™ platform is stellar as the first CDMO approved by any food regulatory authority globally for animal cell and best-in-class service platform for animal cell cultivated meat. Utilizing bioreactors that we have been manufacturing and distributing commercially for the past decade, Esco Aster has successfully created high-quality meat manufactured from cultured animal cells, making the phrase "from lab to table" a reality. Backed with industry experience in biotech, stem cell therapy, and bioprocessing, Esco Aster have designed the manufacturing facility using positive pressure bubbles and pressure cascade with ULPA/HEPA filtered clean air within the cell culture aseptic core. Esco Aster is now the first in Singapore to operate a food establishment through contract manufacturing of cultured animal cells.
As a local Singapore-born company with deep roots here since 1978, Esco is proud to be the first CDMO company globally to be approved.
Said Xiangliang Lin, CEO of Esco Aster and Deputy CEO of Esco Lifesciences Group.
Working in partnership with the burgeoning novel food ecosystem here in Singapore, we are further expanding our facilities to a target of 50,000L as well as scaling up further final food product manufacturing especially for hybrid products.
The AsterMavors platform provides end-to-end services ranging from cell line creation from primary tissue to induced pluripotent stem cells (iPSCs), master and working cell bank, media development, in-process monitoring, and quality control on the final identity and impurity of cultivated animal cells for food consumption.
What comes with the approval is how Esco Aster plugs one of the massive gaps in the current ecosystem of cellular agriculture. The license for manufacturing will allow small-scale manufacturing in a food-approved facility to produce small batches of cultured animal cells that have gone through SFA's safety assessment review for commercial market launch in Singapore.
Mirte Gosker, Acting Managing Director of The Good Food Institute Asia Pacific, says that this milestone is the latest sign that the cultivated meat sector is maturing:
Rapidly scaling up cultivated meat from the proof-of-concept phase to industrial production requires buy-in from existing food and biotech industry leaders. Esco Aster's green-lit facility brings humanity closer to a brighter future where we can continue to enjoy the foods we love, while also mitigating the risks of increased climate disruption and threats of viral outbreaks. After taking its first baby steps, this regulatory milestone proves that the cultivated meat industry is standing up and ready to run.
Esco Aster offers full suite services from helping early-stage companies in their process development, producing small batches as part of R&D, up to scaling operations to a commercial level with a Design, Build, Operate, and Transfer service.
AsterMavors also enables an asset-light dual-pronged approach for matured staged companies to remove the burden of commitment to capital expenditure for setting up a pilot plant in Singapore. Collaborators can focus more on consumer branding and marketing to commercially launch products and project the consumer market preferences. This projection will help them decide whether there is a need to scale up to a larger commercial site in Singapore; thus, saving resources. This also allows them to continue to expand overseas as they set up their domestic manufacturing capabilities to their local food regulatory standards thereby allowing them to expand simultaneously scaling out in multiple countries.
COVID-19 and ongoing animal diseases such as African black swine fever, most recently mad cow disease in Brazil livestock exposed how fragile the current food ecosystem is on overreliance of importing of feed grains for animal feed, to domestic breeding of animal protein. As consumption of animal protein is expected to increase to the point that we will run out of arable land in 2050, alternative forms of cell cultured meat and alternative proteins can serve to supplement animal breeding for protein.
Esco Aster will do its part to develop alternative proteins ecosystem in Singapore through attracting food tech, venture companies, and investors.
We would directly address the domestic food production gap in Singapore, enabling SFA's goal to meet 30% of the country's nutritional needs by 2030. In this process, more high valued jobs will be created in this burgeoning novel food sector in Singapore. In addition, to serve the growing population, expansion of operations in China has been set in motion.
This is but the first step in our journey and we are currently ongoing to accredit ourselves via a third party to ISO 22000 and FSSC 22000 to allow the global export of cultivated cells.
Esco Aster works to solve the crises of this century, where insufficient arable land for animal breeding is met with cellular agriculture and alternative protein solutions. We don't see this as a zero-sum game, but a means for one industry to complement the other. We aim to align with the broader agriculture sector, forward-thinking policymakers, and passionate entrepreneurs. Together, our dedicated ESG strategies will contribute to the reduction of foodprints, environmental impacts of food production. Esco Aster will continue to expand our footprint in various key markets and industries to serve our core customers.
We are also looking to the stars and envision a future allowing humans to be self-sufficient to culture food as other companies work on making humans an interplanetary species.
Good protein in all shapes and forms is the birthright of every human.
About Esco Aster
Esco Aster is a contract development and manufacturing organization (CDMO) founded and deeply rooted by scientists enabling fellow scientists to translate their bench work into life-saving cellular agriculture, diagnostics, medicines, therapies, cosmeceuticals, and at affordable prices for self-sufficiency of the country. We make complex manufacturing simple via our proprietary best-in-class continuous manufacturing platforms providing a reliable and linearly scalable outcome. Learn more at www.escoaster.com and connect with Esco Aster on LinkedIn.
About Good Food Institute
The Good Food Institute APAC is Asia's leading alternative protein think tank, developing the roadmap for a sustainable, secure, and just protein supply. GFI APAC engages with corporations, investors, and governments to explain the value of research and development in food technology as a critical component in addressing public health, climate change, and global hunger.
Contacts
Lin Xiangliang, CEO, Esco Aster Pte Ltd
[email protected]
Tel: +65 6251 9361
Mirte Gosker, Acting Managing Director, The Good Food Institute APAC
[email protected]
Tel: +65 8184 5148